Raimon is the main team in the first and second season and In the Movie of Inazuma Eleven.Their first captain was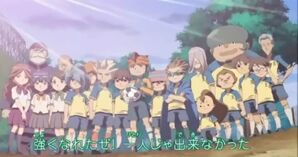 Endou Mamoru
and their current captain is
Kurimatsu Teppei
.
Their uniform is a light yellow t-shirt, with blue sleeves and a collar, fitted along with blue shorts. Their socks are white, and their cleats are dark green. The goalkeeper uniform is green, with orange long sleeves, fitted along with green shorts. On their jerseys, there is a tiny inscription which states the name of their team.
Original Members
Edit
1/15. Endou Mamoru (Goalkeeper/Libero,Original Captain)
2. Kazemaru Ichirouta (Defender)
3.Kabeyama Heigorou (Defender)
4.Kageno Jin (Defender)
5.Kurimatsu Teppei (Defender,Current Captain)
6.Handa Shinichi (Midfielder)
7.Shouriji Ayumu (Midfielder)
8.Shishido Sakichi (Midfielder)
9.Matsuno Kuusuke (Midfielder)
10.Gouenji Shuuya (Foward)
11.Someoka Ryuugo (Foward)
10/12.Megane Kakeru (Foward)
13.Domon Asuka (Defender)
14.Kidou Yuuto (Midfielder/Foward)
16.Ichinose Kazuya (Midfielder)
21.Yamino Kageto (Foward)
Temporarly members
Edit
1/5. Tachimukai Yuuki (Goalkeeper/Midfielder)
4.Tsunami Jousuke (Defender)
6.
Kogure Yuuya
(Defender)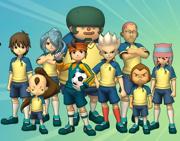 7.Urabe Rika (Foward)
8.Zaizen Touko (Defender)
9.Fubuki Shirou (Defender/Foward)
11.Afuro Terumi (Foward)
Movie-only Characters
Edit
9.Utsunomiya Toramaru (Foward)
11.
Fubuki Shirou
(Defender)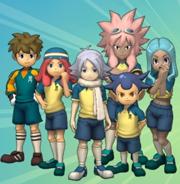 17.Fideo Ardena (Foward)
18. Kiyama Hiroto (Midfielder)
20.Endou Kanon (Foward)
7.Tobitaka Seiya (Midfielder)
New Raimon (Anime)
Edit
1.Tachimukai Yuuki (Goalkeeper)
4.Tsunami Jousuke (Defender) 5.Kogure Yuuya (Defender)
7.Urabe Rika (Foward)
8.Zaizen Touko (Midfielder)
9.Fubuki Shirou (Foward)
11.Utsunomiya Toramaru (Foward)
13.Domon Asuka (Defender)
14.Kidou Yuuto (Midfielder)
16.Ichinose Kazuya (Midfielder)
17.Yamino Kageto (Foward)